Herbal and Aromatherapy Skincare for Business
Botanical Skincare 
Do you want to run an herbal skincare business? 
Take the Herbal and Aromatherapy Skin Care for Business Course.
Don't know how?  Let me help you.
Do you own a salon or massage practice?
Are you an aesthetician or cosmetologist?
Are you interested in making your mark in the emerging 13.5 billion dollars natural skincare market?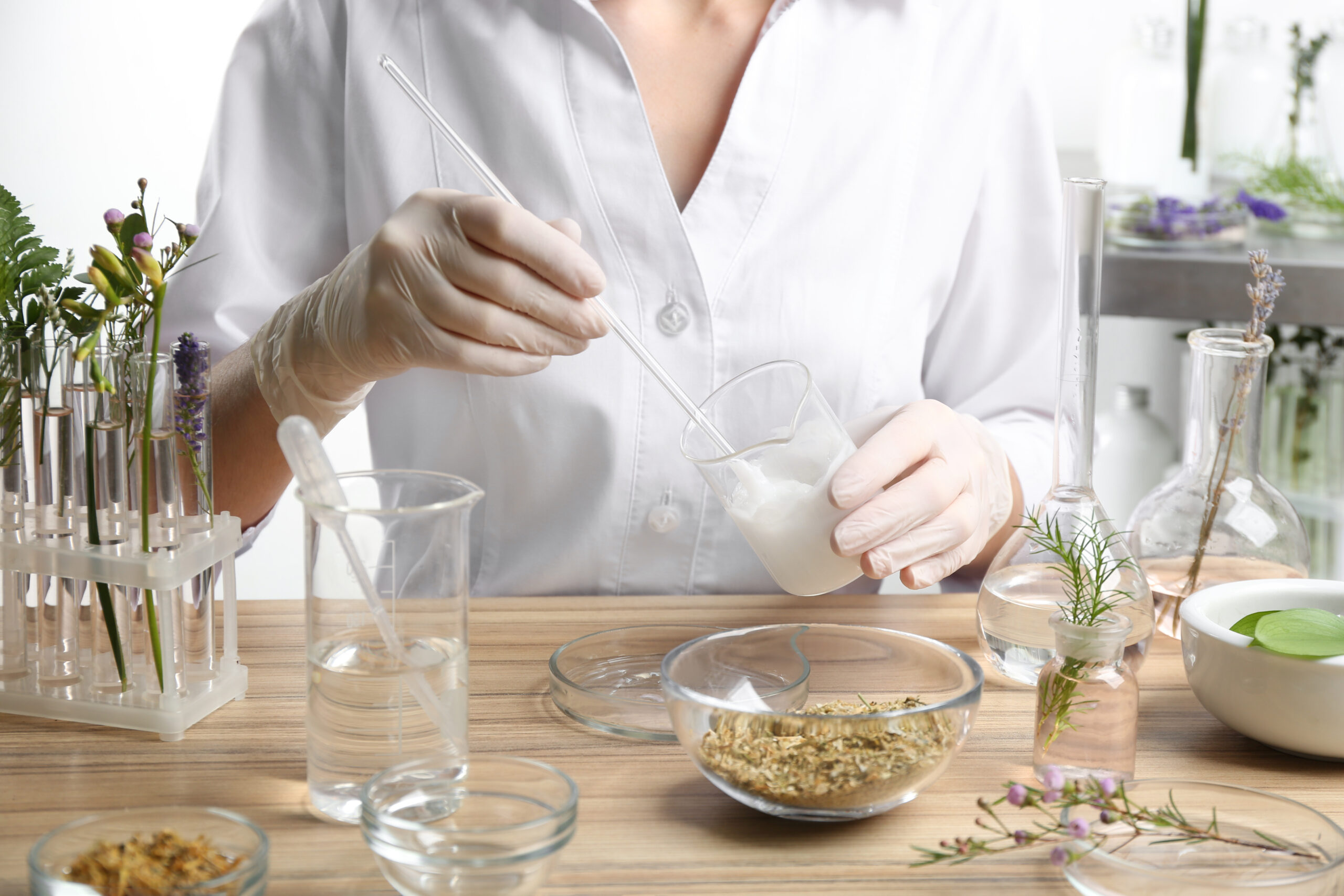 3 Payments of $216.00/month
Learn to run a Botanical Skincare Company.
Our students are running successful businesses and making their education work for them.
The Skincare for Business students come from all industries. Some are in the world of beauty, and others want to be. What they share is a desire to provide the world with natural skincare products using herbalism and aromatherapy. Our students have started businesses making herbal and aromatherapy skin and hair products, soap makers, instructing companies on sustainable and natural skincare products, and providing salons and spas with natural products.
This course has been offered online since 2001. Students learn how to formulate 100 herbal and aromatherapy skincare products. We have over 200 recipes for students to use and make their own — most students,, upon completing this, use what they have learned professionally to have a viable business. Many students now run 6 and 7-figure companies. Demetria Clark ran an aromatherapy and herbal skincare company, one of the first online in 1997. In addition, you get to learn all that she has to offer—knowledge of over 25 years of experience at your fingertips.
What can I do with my Herbal and Aromatherapy for Skincare for Business Education?
By 2019, industry experts have estimated that global demand for natural and organic skincare will reach 13.2 billion dollars.
That's right – $13.2 BILLION. You can be a part of this.
There has never been a more desirable time to start your natural skincare business. You can run your own business, focusing on the needs of your community.
Who is the Skincare for Business Certification

 

suitable for?
This course is excellent for anyone who wants a natural aromatherapy or herbal skincare business. Many of our students have no experience in the world of beauty, and this course starts them down the business path. We also have aestheticians, beauty therapists, herbalists, aromatherapists, salon owners, hairdressers, and facialists. Our course teaches you to be a skilled formulator.
Demetria Clark used these recipes for years as the backbone of her successful herbal and aromatherapy skincare company. We provide hundreds of base recipes students can use in their business, and many do, and recipes you can alter to make your own. You can see products based on our formulas in stores worldwide. We cover more than just formulating and recipes. We also include following proper manufacturing processes, labeling guidelines, how to market and expand your business reach, and so much more.
Who Benefits from the Skincare for Business Certification?
Herbal and Aromatherapy Skincare for Business Certification will teach students how to make and sell their herbal and aromatherapy skincare products. The program walks you through the skin care industry, skin types, and creating formulas for general and specific needs. It also offers guidance on the ins and outs of running a skincare company. The program also covers wholesaling, marketing, and selling products. Excellent for complete novices and experienced formulators alike.
The program is just as relevant if you are already working in skincare or other handmade products, as you can add additional products to your customers. Likewise, many students are in the health, beauty, and relaxation industries. In that case, you may like to offer organic skincare products as a complementary offering to your current services.
You do not have to have any previous herbal or aromatherapy education to enroll in the course. It will cover all you need to know. Download the course catalog.
The program consists of:
560+ pages of herbal skincare business information, industry standards, liability, ethics, marketing, advertising, how to formulate, and recipes for over 100 hundred products. The classroom is full of additional resources for you.
Includes information on herbals for skin care and aromatherapy for skincare.
There are business tips, guides, and regulation resources to make your business its best.
Offering supportive business resources and training.
Access to Heart of Herbs bonuses.
Suppliers for base ingredients and bottling resources, packaging, printing, etc.
Educational materials on running a business and how to make your business work for you.
I learned so much and have already seen success with my herbal skin care business!
This class made all the difference. I am using what I have learned at my salon and now offer custom products to clients. They love them! Thank you!
Can't get better support! So much information. Demetria makes herbalism easy and tons of fun. I use the blends I make with my massage clients. It is fabulous to be able to help people.
I love all Heart of Herbs courses. The classes are so much fun, and questions are answered quickly. I have taken a few courses and they never disappoint.
3 Payments of $216.00/month