Herbal and Aromatherapy Skincare for Business
Mother Nature has provided us with all the materials we need to craft safe and effective skincare products. From rose and calendula petals to beeswax and almond oil, you can combine seemingly endless combinations of all-natural ingredients to create a custom skincare line.
Unfortunately, many mass-produced beauty and skincare lines use harmful ingredients in their products that can cause disruptions to the natural functions of our bodies. By learning how to formulate herbal and aromatherapy skincare products, you can help yourself and others on the journey toward having naturally radiant skin, hair, and nails.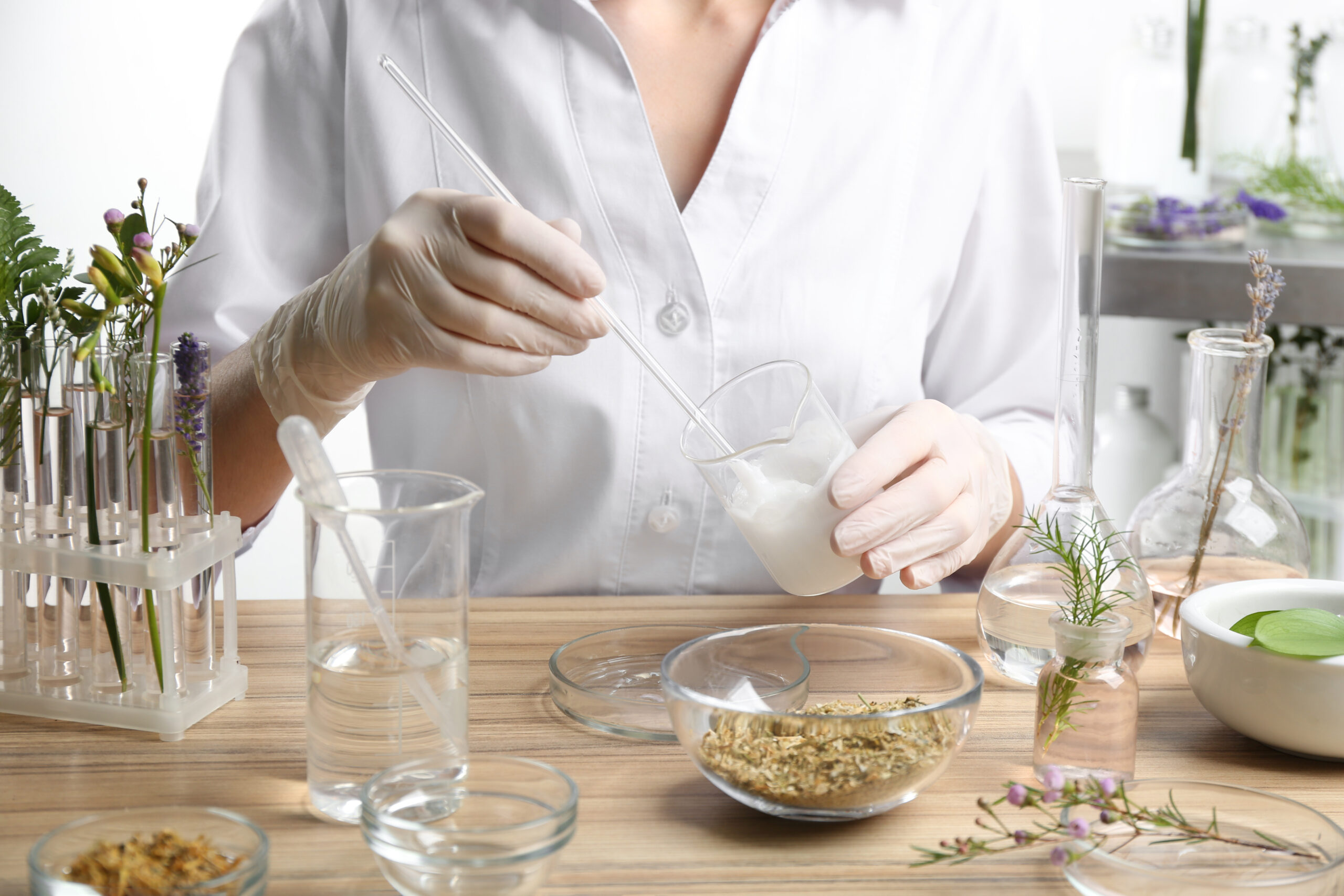 Blossom Your Herbal Skincare Company
Do you daydream about owning your own herbal skincare company while you sip on your morning cup of tea? Do you own a salon or a massage practice? Or, are you an esthetician or a cosmetologist who wants to branch out into the world of natural beauty?
If you answered "yes" to any of the above questions, then this course is perfect for you. 
Connect your love for nature with your passion for better skincare with Heart of Herbs Herbal School.
What can I do with my Herbal and Aromatherapy for Skincare for Business Education?
By 2019, industry experts have estimated that global demand for natural and organic skincare will reach 13.2 billion dollars.
That's right – $13.2 BILLION. You can be a part of this.
There has never been a more desirable time to start your natural skincare business. You can run your own business, focusing on the needs of your community.
About Our Herbal and Aromatherapy Skincare for Business Course
Weaving ancient herbal knowledge with modern practices, the Heart of Herbs Herbal and Aromatherapy Skincare for Business Course is a great choice for those who want to embark on a professional herbal skincare journey at their own pace from their homes. 
This course has been offered online since 2001, and since its inception, we've had several graduating students move on to run 6- and 7-figure companies. What does this mean for you? It means you can manifest your daydreams into reality with the knowledge you glean from this expert course.
The Herbal and Aromatherapy Skincare for Business course features:
Anatomy of hair, skin, and nails

In-depth plant profiles for herbs used in skincare

Education about aromatherapy and essential oils for skincare

How-to guides for herbal formulations

Recipes for more than 100 products, including skincare, hair care, soap, and more

Access to Heart of Herbs Herbal School bonus resources and training

560+ pages of herbal skincare business information

List of suppliers for base ingredients, bottling resources, packaging, printing, etc.

Information about industry standards, liability, and ethics

Marketing and advertising tips

Two additional industry textbooks, including a business start-up text and a formulation book
Enjoy unfolding the teachings of this course at your own pace. Your instructor, Demetria Clark, is here to help you every step of the way. She brings more than 25 years of experience to the table and will patiently respond to your questions while you make your way through the online course materials. 
I learned so much and have already seen success with my herbal skin care business!
This class made all the difference. I am using what I have learned at my salon and now offer custom products to clients. They love them! Thank you!
Can't get better support! So much information. Demetria makes herbalism easy and tons of fun. I use the blends I make with my massage clients. It is fabulous to be able to help people.
Complete Herbal and Aromatherapy Skincare for Business Course Syllabus
What you will learn. Click to Expand
Lesson 1: Welcome!
Welcome, Students- Housekeeping section.
Student Handbook
Assignment List
Suggested Readings
Lesson 2: Anatomy of Skin Care
Anatomy of Skin and Skin Structure
Anatomy of Skin Cells
Anatomy and Structure of Hair and Nails
Proper and Safe Skin Cleansing
Lesson 3: Herbals and Aromatherapy
Herbs and Aromatherapy
What is Aromatherapy
History of Aromatherapy
Essential Oils and Carrier Oils
Herbalism
What is Herbalism
Lesson 4: Skin Care- Healthy Skin
Skincare – How to Properly Care for Skin
Skin Ailments- from Acne to complex skin care issues.
Herbs for Healthy Skin
Lesson 5: Ingredients In Skin Care
Skin Care Ingredients- What they are and what they do.
Shelf Life of Oils, Carrier Oils
INCI names (International Nomenclature Cosmetic Ingredient) are systematic names internationally recognized to identify cosmetic ingredients.
Chemicals to Avoid in Skin Care
Lesson 6:
Products for Resale – Guides
Product Labeling
Good Manufacturing Practices
Cosmetic Skincare Practices
Products for Resale and Preservation
FDA Guidelines for Cosmetic Labeling
Lesson 7: Recipes and Formulation
Recipes and Formulations (Over 227 pages of recipes in just this section, not including other recipes in the course, these you can use for your products.)
First Aid Kit
Emotional Guide to Essential Oils for Formulations
Soap Making- Learn to make homemade soap to sell.
Lesson 8: Business Skills for Success
Business Skills and Development
Suppliers for containers, labes and ingredients.
Business Planning
Client Attraction
Dreams and Goals
Making Ideas Happen
Business Displays
Taxes
Business Naming
Business Planning
Lesson 9: Skin Care Final Work
First, I want to thank Demetria, for being so amazing. And for having the patience to deal with so many people. And for being understanding! I can't say enough great things about skin care for business class. I researched and contemplated if I should take the skin care class first, or should I take the herbal class first. And I prayed about what class to take. I am glad I took the skin care class first! It was the correct decision. The amount of knowledge I have gained from taking the skin care class is amazing. If you are on the fence about taking the skin care class? Get off the fence. It's worth every dime and getting out of your comfort zone. Thank you so much, Demetria, for creating Heart of Herbs! You have served all of your students well. Now I am on to completing my herbal certification.
This was an amazing course and Demetria is very nice about responding and emailing us just to see if things are going OK. I really enjoyed this course and plan to take more in the very near future. I learned so much and I now feel confident enough to make small batch products with love, knowing they are safe to sell to the public. Thank you Demetria!
Everything was so good! It was fun learning with you; Mrs. Clark always answers all my questions. Thank you for helping me gain a lot of the skills needed to start and run my own business.
I love that l learned information that I never thought existed. I was taught much more about herbs, dosages, skin, and the human body. This is my passion. I will continue to use your guide and tools to further my holistic journey to help heal Mother Earth, Gaia, and our Nation. Mrs. Clark, I will forever, ever.. be thankful! I'm Thankful! #Hugs Don't Change a Thing!
I just finished taking an amazing course and I have to say, it was so worth it! Even though I don't plan on starting a business, I learned so much that I can apply to my everyday life. Now I'm able to make everything my friends and family need, and they love it too! I highly recommend this course to anyone looking to expand their knowledge and skills.