Best Herbal Books for Children
These are my top 5 picks for the best herbal books for children's health.
These herbal books for children's health are staples for many families. The books, on the best herbal books for children list are books I have personally used and had experience with. I tend to be a practical person and want simple remedies that work, especially when I am traveling.
So, some of you may know this, some not, but I am the mother of two now-grown sons. They were wild ones, always outside, in the woods, splashing in streams, climbing rocks and traveling to over 22 countries with my husband and I. They were also athletes, skateboarding, swimming, football, hiking, and soccer. These two tested my herbal knowledge and skill with dislocated shoulders, headaches, strains, sprains, broken bones, cuts, stitches, well, you get my point.
I was lucky, though. My boys had lots of fun and rarely got sick and never suffered from a severe or life-threatening injury.
But trust me, I know how to get kids to use herbs, and I know how to treat children with herbalism. I have extensive experience working with infants, children, teens, and young adults.
The following are five books I love for use with children. Yes, one is written by me. Now, this book was written based on working experience for children, so I know it works. My book is a little different because it is so simple and easy, and it starts with infant care and spreads into the teenage years. Here is my list, in no order of preference, of the best herbal book for children's health.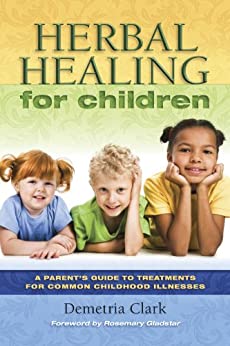 1. Herbal Healing for Children by Demetria Clark
Best Herbal Books for Children's Health
This book is a must-have for many families. It is easy to use, detailed instructions, and easy to find ingredients. This book does not recommend pre-made products or formulas but has a lot of recipes. The book is based on tried and true recipes used to assist families all over the world.
Since this is my book, and my review is totally biased, there is no way it couldn't be. So check out what others have had to say.  We also have a course specifically geared towards the health needs of children from birth to teen years.
From Growing Up Herbal
Herbal Healing for Children by Demetria Clark
"This book by Demetria Clark is similar to the book above, except it's more of an herbal guide for common childhood illnesses. This book has a list of commonly used herbs for children that you can keep on hand and learn about. It also shares common illnesses that many kids face during childhood and gives suggestions as to how herbs can be used to help in these situations. There's also a section that explains how to make herbal remedies, a section with herbal remedy recipes to help you get started, and a section about planting herb gardens, so you have herbs available when you need them."
2. Naturally Healthy Babies and Children: A Commonsense Guide to Herbal Remedies, Nutrition, and Health by Aviva Romm
Best Herbal Books for Children's Health
This book is so great because it includes not just herbal information but nutritional information. She integrates herbal support, nutrition, hygiene, and alternative health techniques, and each entry includes herbal, dietary, and general guidance, including tips on when to seek professional medical care. Aviva Jill Romm has been guiding parents for many years.
3. Herbs for Children's Health: How to Make and Use Gentle Herbal Remedies for Soothing Common Ailments by Rosemary Gladstar
This 128-page pocketbook is excellent to keep in the car or your suitcase when you travel. It is a much-loved herbal book for families all over the world. Lots of easy-to-make recipes and practical family tips. This book is one of the best herbal books for children's health because it is portable and easy to use.
4. Nature's Children by Juliette de Bairacli Levy
This is a classic. An inspiring, practical, and fun book to read. She infuses her herbal journey into every word. She starts the book by covering parental care and covers the needs of the family and introduces herbals from all over the world. In this book, you get to feel her experience and her herbal journey. One of the reasons I love this book is because it is truly one of the best herbal books for children's health
5. Rosemary Gladstar's Herbal Recipes for Vibrant Health: 175 Teas, Tonics, Oils, Salves, Tinctures, and Other Natural Remedies for the Entire Family by Rosemary Gladstar
So, not specifically for children, this book has lots of easy-to-use recipes for the whole family. You, as the reader, also get to learn a lot more about herbalism and family formulation. In this book, Gladstar inspires the reader to nurture themselves and their family with nature's healing herbs.
Learning to work with your child's illnesses with herbs safely is not only fun but empowering for the whole family. Many of these recipes are pure common sense, and that makes a lot of sense to me. Having great herbal books for children's health on hand is a must for all parents.
Now is your time! Online, mentored education, with support and a great student group.
Disclaimer
Disclaimer Blog
The information presented on the Heart of Herbs Herbal School/Demetria Clark websites is for educational purposes only. Heart of Herbs Herbal School/Demetria Clark Education LLC makes neither medical claims nor intends to diagnose or treat medical conditions. Links to external sites are for informational purposes only. Heart of Herbs Herbal School/Demetria Clark neither endorses them nor is in any way responsible for their content. Readers must do their own research regarding the safety and usage of any herbs, recipes, or supplements.