Ready to become a Phytotherapist?
What is the Phytotherapy Diploma Program?
This program trains you to become a Phytotherapist. As a Phytotherapists, you will excel at professional modalities to assist clients and customers and enhance your business needs. You will learn to consult with clients, formulate products, research, and implement herbal and nutritional support for clients and customers.
Phytotherapists help clients achieve optimal health and well-being using a variety of plant modalities.
The Phytotherapy Diploma studies plants in different healing modalities to enhance well-being and wellness. We instruct students to support clients' mental, physical, and nutritional health.
What is Phytotherapy?
Phytotherapy is a science-based plant medicine practice. It blends traditional herbal medicine with science and modern techniques and therapies.
Learn to use all types of plant medicine for healing at an advanced level. Our students receive a Heart of Herbs Herbal School Phytotherapy Diploma. In addition, you will also receive a Certified Master Herbalist, Master Clinical Aromatherapist, Flower Essence Practitioner, Certified Ayurvedic Herbalist, and Herbal and Aromatherapy Skin Care for Business Certifications. Download the Program Catalog.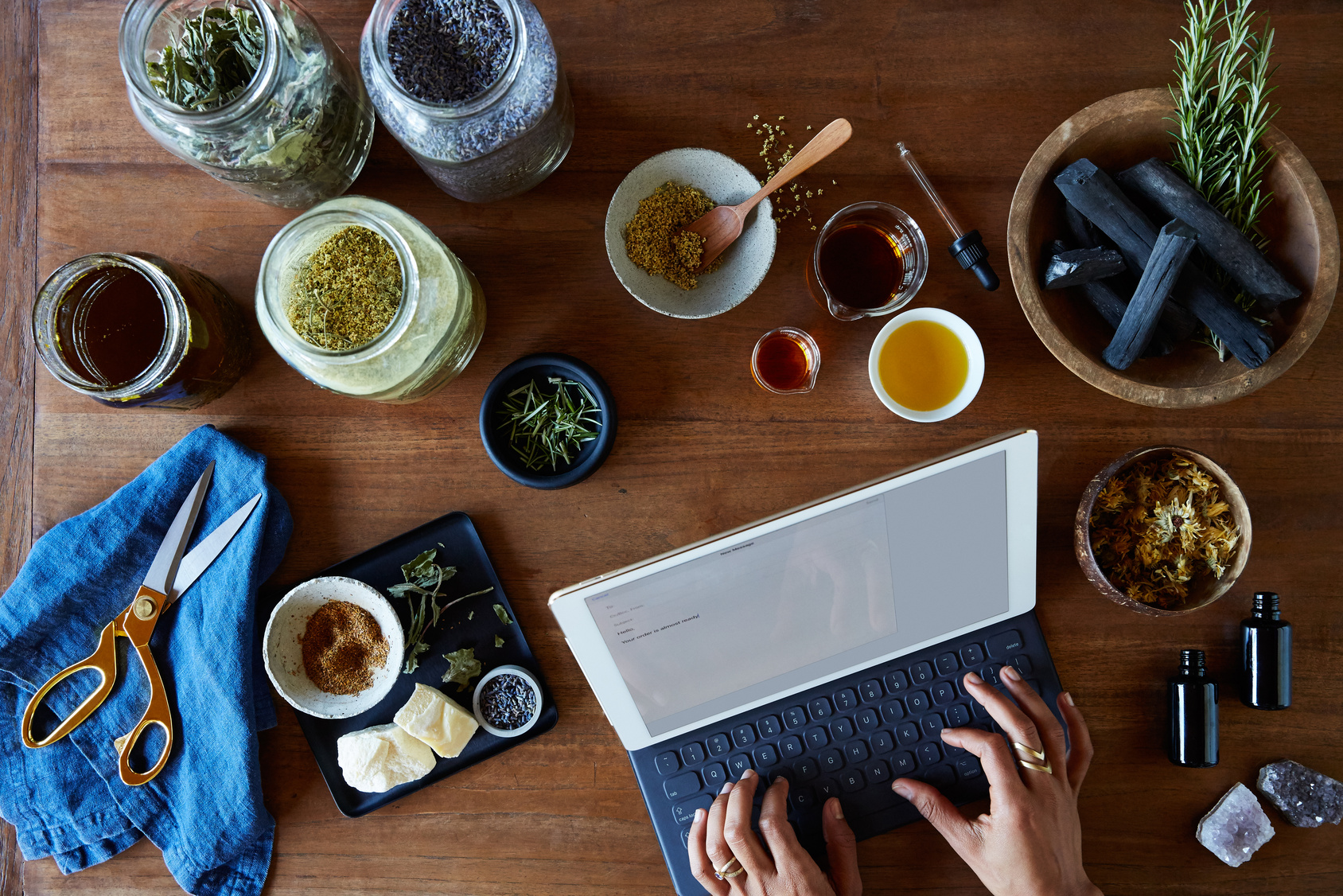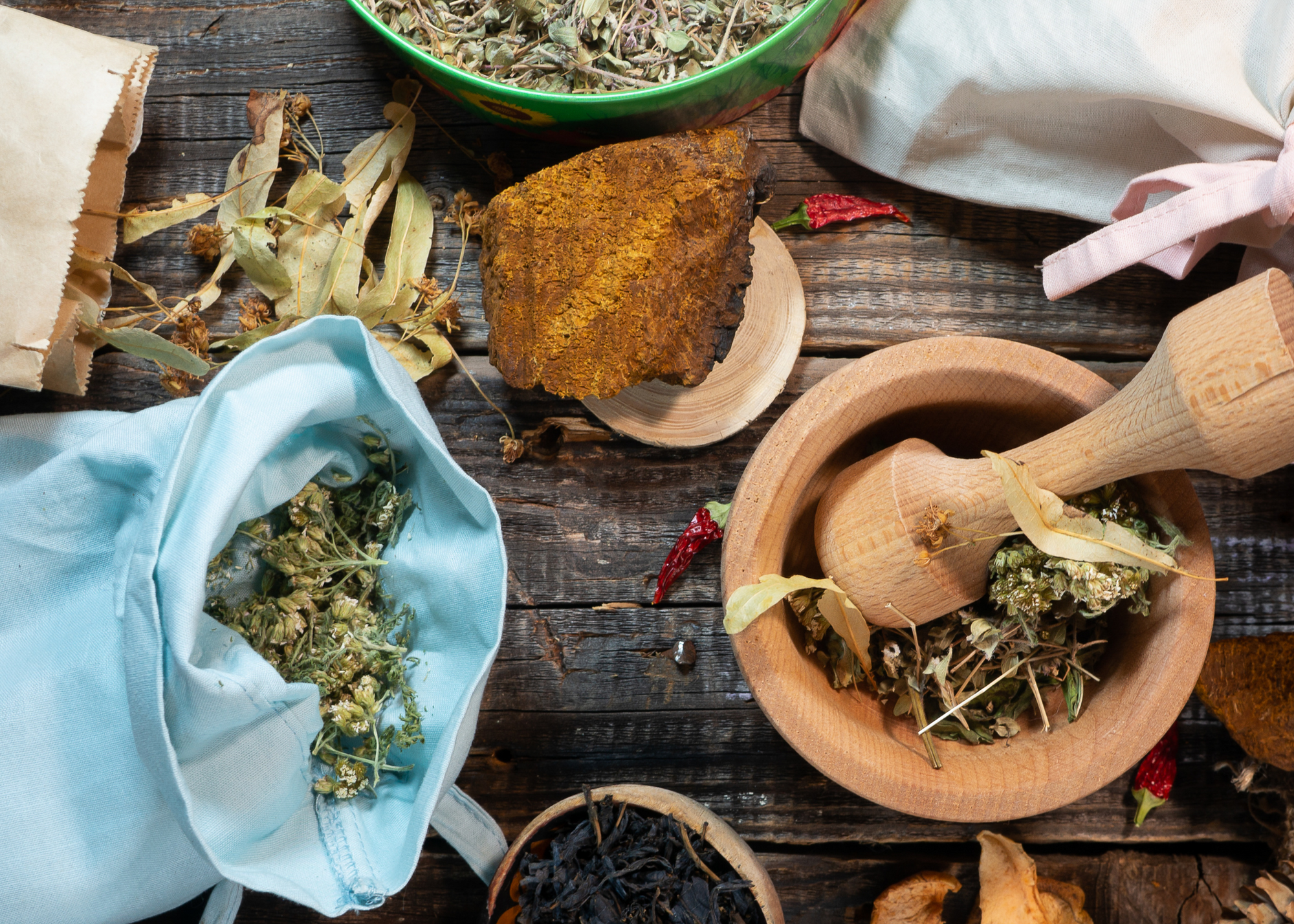 $5,567.00
$3,340.20 with coupon CELEBRATE25
Save 40%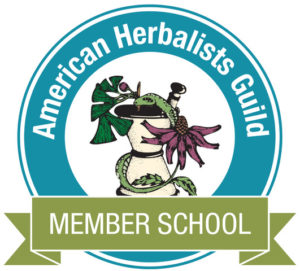 9 payments of

$630.00

/ Month
9 payments of $441 / Month with coupon SAVE30
Save 30%
Phytotherapy is Connection
Upon completing the program, you will have the advanced education and the tools for success. Take your herbal career to the next level.
What will I learn?
Students will approach the program from a plant-based science state of mind. You will learn Anatomy for Phytotherapy, Microbiology for Phytotherapists, Botany, Plant Medicine Formulations, Nutrition, Pharmacology and Pharmacognosy, Ethnobotany, Nutrition, Client Care Skills, Advanced Business Skills, and enrollment into the following courses as part of the program.
Course Catalog
Clinical Herbalist Certification
Clinical Aromatherapy Certification
Flower Essence Practitioner Certification
Introduction to Ayurveda Certification
Herbal and Aromatherapy Skin Care for Business Certification
GreenSpirit Herbal WiseCraft Certification
How long does the program take?
Most people take about 2-3 years, but you will have access for five years to complete the program. Students can work at their own pace. If students need more time, they can request a free extension.
Program Outline
Click to Expand Outline
Courses in the Phytotherapy Program
Module 1- Welcome
Module 2- Anatomy and Physiology
-Introduction to Anatomy
-Anatomical Positions
-Cells
-Connective Tissue
-Muscular System
-Skeletal System
-Digestive System
-Nervous System
-Endocrine System
-Respiratory System
-Circulatory System
-Lymphatic System
-Urinary System
-Reproductive System

 
Enrollment includes: Access to all resources in the GreenSpirit Herbal Wisecraft and Clinical Herbalist and Aromatherapist, Flower Essence and Ayurveda  Classrooms, bonuses and other course resources.

Extensive student workbooks, free ebooks and other educational materials you can print and save. Students also receive items in the mail for this program.

Instructable resources, lectures, recipes and formulas, printables and other education resources. This program contains hundreds of formulations and recipes.

Instruction, Connection and Access to our Student Support Group. Business trainings and development resources.
Are you ready to become a Phytotherapist?
Heart of Herbs Herbal School has a long history of supporting students with their goals. Our Herbalist Certification program offers students a comprehensive education, from budding herbalists to community practitioners and formulators. You can use this education program for your career goals.
What do students do when they complete the Phytotherapy Diploma Program?
Most students, upon completion, start herbal businesses. They open shops and health practices, have product-based companies, and teach their classes. The program is known worldwide for its full teacher support, practicality, high student success rate, and satisfaction. Becoming a Phytotherapist has never been easier.
She is our Founder and Director and always has time for students. Most importantly, we have been serving students since 1998. Join our student group and work with students from all over the world.
How long does the course take? Generally, students take at least 2-3 years to complete the entire program. You can have up to 5 years before needing to request an extension.
Can I connect with other students? Yes, we have a vibrant online community where students can connect with students, past and present. Learn with others from all over the world.
Guess what? You have access to any updates. This includes bonuses, webinars, and Q&A sessions we offer.
All students can have one-on-one support and access to the program director for assistance.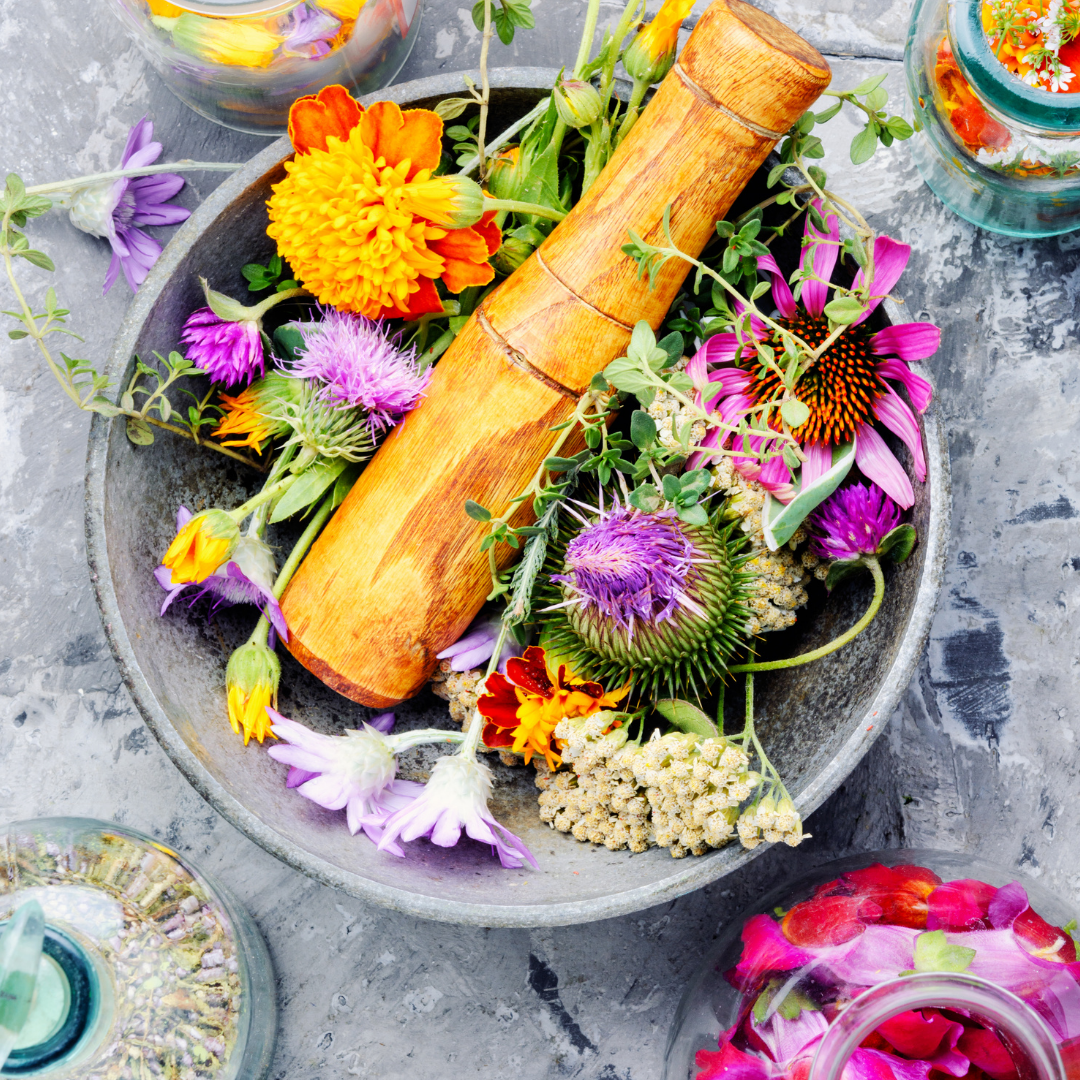 $5,567.00
$3,340.20 with coupon CELEBRATE25
Save 40%
9 payments of

$630.00

/ Month
9 payments of $441 / Month with coupon SAVE30
Save 30%
What will I learn?
When you become a phytotherapist, you learn how to work closely with people seeking ways to support their health and well-being with botanical medicine. It's a challenging, fulfilling profession. It requires much understanding of botanical medicine, human health, and business acumen. You will learn to practice within legal parameters and have the education to back it up.
Business Skills
You also will learn how to run a sustainable business. You will also learn to genuinely, ethically, sustainably, and encouragingly interact with clients!
Students will get a detailed herbal education that combines direction in developing an herbal practice and assisting clients with a natural and scientific viewpoint. Our students benefit from a rigorous curriculum of study that stimulates them and helps them grow professionally.
The program was developed to educate herbalists, health care, mental health, and wellness care providers. This program was curated to take all students to an advanced level.
Quality Education and Support
The Phytotherapy program requires commitment and engagement, but it helps provide students with the tools needed for wherever their career takes them. You will learn advanced plant healing modalities and how to work with clients, run a business and assist clients in achieving optimal health.
Furthermore, this self-guided online course offers flexibility to study at your own pace when convenient for your schedule. Students can also benefit from working closely with Demetria Clark to achieve their dreams.
What our students have to say, student testimonials.
My eyes have been opened! I studied herbalism for years before I found this program. I can now work with clients offering them more services than ever. Flower Essences, Aromatherapy, Herbalism and so much more! Thank you! Thank you!!
Demetria was so helpful and answered questions so quickly, it was amazing.
I can't believe how much I learned. I can't understand how I lived my whole life without truly understanding the power of plants in healing. As a Nurse Practitioner I took this course to help understand and help my patients and I ended up opening a whole new world for myself.
I also loved all of the support and compassion in which this program was taught with.
As a doctor I would never know how to answer my patient's questions about herbs and herbal medicine.
I decided to take this course to be able to assist my clients, and I ended up learning a lot, and having so much fun. I got reconnected to nature and appreciating what the earth has to offer.
Demetria was attentive and patient with all of my questions, I appreciated that.
Thank you so much, Demetria Clark; I had a great experience in learning and widening my knowledge of different herbs and treatments. There's so much to learn about old/new remedies from different cultures and beliefs. It was important for me to learn about the many different aspects of herbalism and botanical health.
You are a great teacher, and a wonderful person. I really enjoyed this course and all that I learned.
Thank you for designing this great program and making it affordable and accessible to those interested in pursuing their dreams as an herbalist!
Fantastic course! Your studies are well-designed for people to work through on their own time and at their speed. I love that it gives me the room as an independent learner to dive deep into the areas I am most interested in. It allows me to bring my creativity to the table and explore my interests! I appreciate the additional resources mentioned to guide my education.
I absolutely loved this course it was thorough engaging and self paced which was super beneficial being that I work! It allowed me to work around my schedule. The arrangements of the materials was great and intuitive.
I especially loved the Pet Care selection because knowing how to help our furry friends means the world to me.
THANK you Demetria For this course!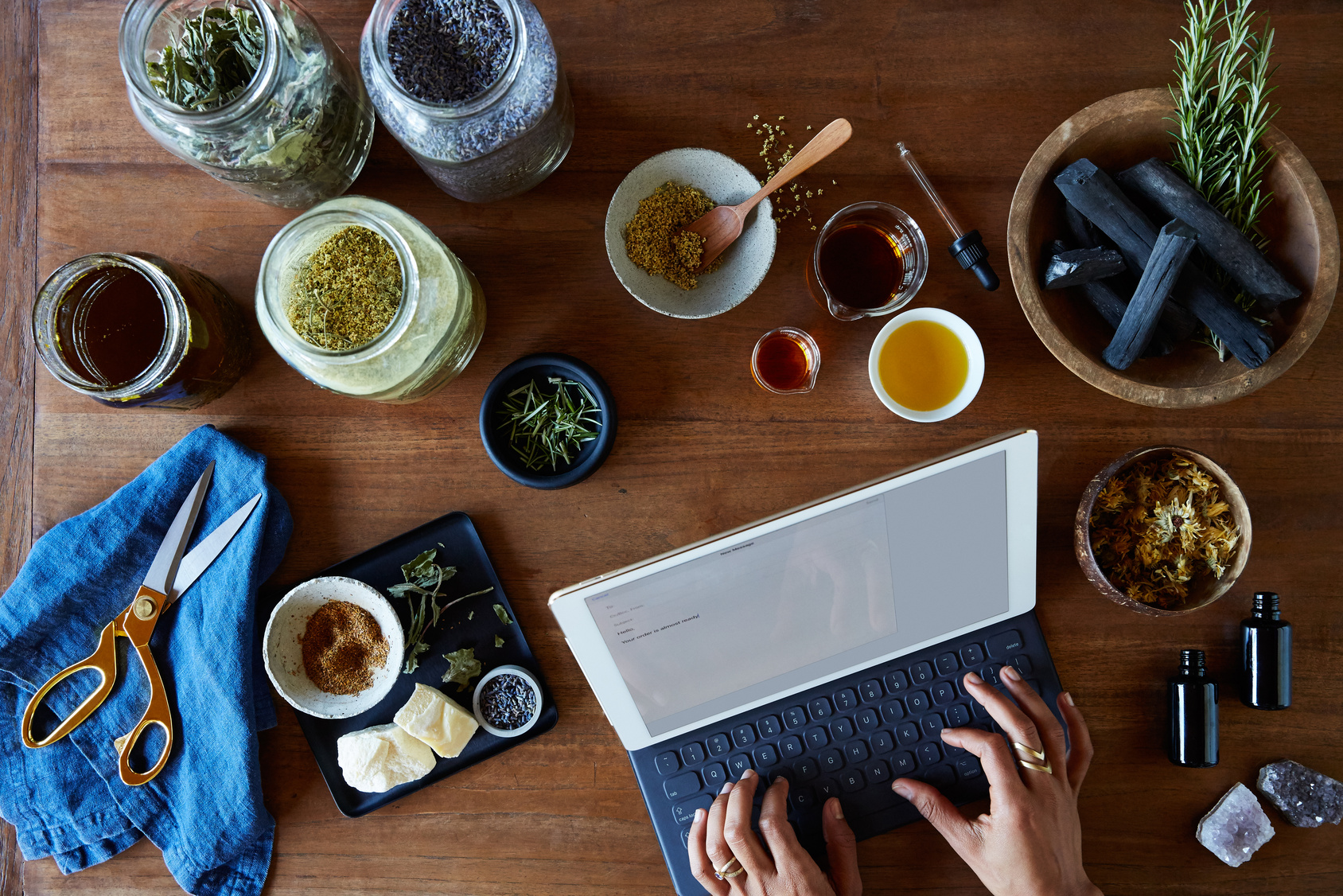 $5,567.00
$3,340.20 with coupon CELEBRATE25
Save 40%
Come Join Us!
We support you on your herbal journey at Heart of Herbs Herbal School. We update resources, respond to emails, and schedule phone calls with students when needed. We want you to feel supported while you pursue your herbal studies from your home.
We have a supportive and diverse student body with students from all over the world. We encourage you to connect with our student group and learn and grow with each other.
We believe in support, mentorship, and connection.
This online course is self-paced; you can start as soon as you sign up!
9 payments of

$630.00

/ Month
9 payments of $441 / Month with coupon SAVE30
Save 30%
FAQs
How long does the course take?
Most students take 2.5-4 years to complete the program.  It is at your own pace and schedule.  You can have up to 5 years until you need to request an extension.
Is this course recognized by the American Herbalist Guild?
Yes. The AHG recognizes us. Our program exceeds AHG educational guidelines. This program includes the 3500-hour clinical herbalist program.
Are there prerequisites?
No. Anyone who wants to become a Phytotherapist can take this program. We just ask that you are ready to learn.

Can I make a living?
Depending on what type of herbalism or aromatherapy you decide to practice you can do any of the following. Making money as an herbalist or aromatherapist is entirely up to you, you need to have a good work ethic and develop business skills and a belief in yourself. No program will make you successful or not, that is inside of you.
Some of the jobs our students have taken after finishing.
Herbal toiletries – soaps, oils, bath salts, shampoos
Clinical Herbalist/ Practicing Herbalist
Run an Apothecary
Lead Botanical Adventures
Cook for Herbal Associations
Botanical Medicine Maker
Own an Herb Farm
Facilitate herbal trips, adventures, getaways
A salesperson in herbal operation
Health and Beauty at a health food store or food cooperative
Run an Herbal Business
Work in ways to assist herbalists with technological issues, websites, etc..
Farm
Wildflower grower
These are just a few avenues you can venture down but with a little imagination, I am sure you can come up with dozens more. Many of my students incorporate their practice into their present life, Baker, Innkeepers, Coffee House Owner, Farmers, etc..
Salary Questions?
According to Salary.com: The base salary for Herbalist ranges from $47,656 to $71,210 with the average base salary of $57,696.  Phytotherapists offer more skills and services so their salary can be much higher.
According to the American Herbalist Guild:
The American Herbalist Guild cites a wider spectrum of salaries, potentially due to part time work. It says most herbalists make between $20,000 and $120,000 a year. This of course will depend on the herbalist's business acumen, type of herbalism practices, where they are located, etc.. Most Clinical Herbalist charge between $60-120 an hour for consultations. Herbal product formulators can have potentially the largest salaries, as can herbal growers.
FAQs
Any hidden fees?
We do not charge grading, mentoring, or certification fees. We do not supply students with any herbs, containers, or additional books. This course includes some additional books and supplies that we send, but we can only guarantee that students in the US can get supplies. We can't make the same guarantee for international students, although we do still try.
Fees are clearly marked out. The course price is all-inclusive. Except for the transcript and certificate fee. Students can for free get a digital copy of the certificate. We found most of our students wanted a digital certificate to include in resumes, etc. This is the same for transcripts, a free copy can be sent digitally. Demetria does not offer personal health advice or consult with students.
Is there a time limit?
Yes, and no. We do not use words like lifetime access, which can be confusing and potentially misleading. In the course world it means the lifetime of the course, we want to be clearer than that.
We ask that students finish this course in 5 years depending on the program but if the student cannot they can ask for an extension. We realize life happens and we want you to be able to complete the program once you have bought it. We also want students to be able to integrate these practices into their lives. If your enrollment becomes inactive, after 1 year of inactivity, students will have to pay a reactivation fee. Contact Demetria for the fee amount.
Do you offer a certificate?
Yes, we do, only upon full completion of the course. Please know that if you do not pass you do not get certified, if you do not complete the work, you are not certified. Do not ask for special recognition of other work, these are specific programs, and we require complete of all of our work. In United States herbal and aromatherapy education and certification is school specific. No national standard or accreditation exists. Our programs have been taught to corporations, in colleges and universities and hospitals.
Students in the Phytotherapy program will get a certificate for each program they complete as they complete it, and then a final one at the end.
What about support?
We've got it.
Students can email, join our student support group, call or make an appointment to chat.
Do you have a supply list?
Yes, and no. You will find suggestions for supplies, herbs, and containers you may need in your classroom.
Here is the no part; your supplies are based on the projects and hands-on work you decide to do as part of your education.
We teach you how to formulate to decide what to make for your assignments. So if you are making a heal all salve we will teach you how to select the herbs and create the salve, each student has the freedom to use our recipes or create their own.